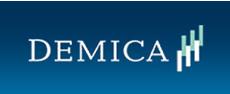 Lindsell Marketing has been delivering PR and content for Demica for the last six years. Following the successful redesign of its website in 2009, we were brought in to advise on another strategically important issue; Search Engine Optimisation (SEO).
The Brief
As a provider of technology-based services and a working capital solutions specialist in specific sectors such as trade receivables finance, supply chain finance and invoice discounting, it was essential for the company to maintain a strong online presence amongst these niche audiences. The previous Demica website had built up a significant reputation with search engines through time, which needed to be maintained. The redesigned website was effectively a stranger from the point of view of a search engine, with a completely different structure and page name to the previous one. A clear and structured SEO plan was needed in order to re-familiarise the redesigned website with the search engines.
Solution & Results
The visual and structural redesign made Demica.com a lot easier to navigate, but initially brought fewer visitors than the former website.  Lindsell Marketing created and implemented an SEO programme to specifically target financiers, buyers and suppliers – all key prospects for Demica.  We conducted a detailed analysis of the keywords relevant to each of these areas and then related this to our already extensive knowledge of the marketplace in order to finely tune each page of Demica's website with appropriate metadata and keyword content.  This also included the optimisation of Demica's PDF research reports that are created as part of the PR programme.
After all the pages had been fully optimised and targeted, Demica regained its popular ranking on search engines, with several important terms ranking higher than they had with the old website. After having such a positive effect on search rankings, we implemented an Adwords campaign, aimed at those keywords that are less accessible through organic results.  Combined with the fully fledged digital and PR communications service we deliver, this has had real success.
The Client's View
"Having revamped the website with an improved structure and eye-catching design, we were aware this could have a negative effect on our standing with the major search engines.   With Lindsell Marketing, we were able to drive the new website forward and give it the exposure it deserved – in a targeted fashion.  They advised us on how this could best be achieved, joined it up with existing PR activities and kept us updated along the way.
"The results were a resounding success and plain for all to see.  A google search filed us amongst the top results, whilst an analytics report showed a50% increase in visitors.   Instead of generic and often questionable improvements as provided by some SEO companies, Lindsell Marketing clearly shows an understanding of our business, targeting those with a true interest in our services."
Phillip Kerle, CEO, Demica