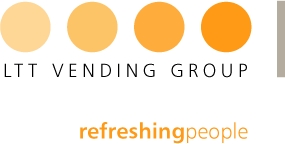 Lindsell Marketing worked with LTT Vending to raise the profile of this key industry player and to highlight the growing popularity with workers of premium coffees made available through vending facilities. The campaign aimed at making catering facilities purchasers more aware of the popularity of quality hot drinks at contained costs within the workplace.
The Brief
LTT Vending had noted that during the height of the recent recession, the public's hot-drink buying habits had undergone a major shift from café purchasing to vending machine. The company wanted to take the opportunity to demonstrate that quality vending products are being appreciated by the coffee-cultured public. It was a task which needed to encompass all vertical sectors from education to facilities management, from leisure to call centres.
Solution & Results
Lindsell Marketing developed a campaign for LTT Vending based around the exciting news that the company had recorded a 55% increase in sales of premium coffee in a moment that coincided with the height of the recession.
Credit-crunched staff at call-centres, colleges and leisure centres had in fact opted to spend their hard earned money on coffees that are of equally high quality as those sold on the high street, but are retailed at a much lower price and within the company's own premises.
The news aimed at increasing awareness of the company within its target vertical markets but also at raising the profile of quality coffee drinks available through vending facilities. This strategy directly supported the company's sales and marketing efforts by showing that British palates, after lengthy education to the joys of quality coffee have recognised that it can also be made available conveniently within the workplace.
News relevant to each vertical industry where take up of vending machines is greater, enriched with sector specific analysis, figures and LTT customer testimonials, was released gaining the company positive exposure in all their key target markets: catering , call centre, education and facilities management. Lindsell Marketing generated over 15 pieces of coverage, including features in Cost Sector Catering, London Lite and Executary News as well as national media such as The Times and The Guardian.
The Client's View
"The campaign produced some really pleasing results. Not only were we brought to the attention of prospects across a number of key sectors and regions that we operate in, but we also gained national coverage making the general public aware of low cost premium quality coffee which is enjoyed by vending machine users across the country every day.
"Lindsell Marketing assisted us in the creation of a really strong and meaningful message that appealed to a number of media. They understand how the media works and can develop content that is engaging – a rare and powerful combination. In our own sector we have benefited from the additional attention and the campaign has caused a stir among our competitors.  We found that the Lindsell Marketing team deliver on content, industry knowledge and the ability to create striking professional messages that stand out from the crowd."
Debra Fisher, Marketing, LTT Vending