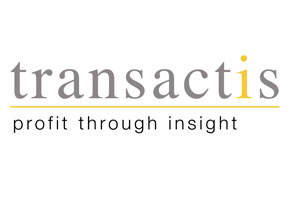 Lindsell Marketing has been working with CDMS since 2004 delivering integrated PR and following a recent acquisition has helped the company to rebrand as Transactis.  Today, we work as a seamless extension of Transactis' dedicated marketing team to provide content rich PR, as well as strategic research and consultancy.
The Brief
Making the complex nature of direct and database marketing accessible to prospects and the media can be a difficult task.  As a specialist direct marketing provider which encompasses the complete spectrum of data, creative and multi-channel messaging services, it was essential that the company get this right for success.
Solution & Results
Lindsell Marketing has developed an annual content rich PR programme that directly links in with the marketing aims of the organisation to support campaigns and sales efforts.  A series of research reports have been released exploring topics such as response rates across marketing channels and trends in direct marketing personalisation that helped establish the company's expertise and real understanding of the commercial marketplace.  News, articles, letters to the editor, features and blogs are only a few examples of the exposure gained in key vertical industry publications, as well as the marketing media, national papers and even broadcast media such as BBC Radio 5 and BBC 1's The One Show.
The organisation's profile has also been regenerated through a campaign to enter industry awards.  Lindsell Marketing has written case studies and award entries that clearly demonstrate the value and benefits of the company's solutions to clients such as Betfair and Shop Direct Group.  The results speak for themselves – four industry awards under their belt in one year and they have not yet left an awards ceremony with at least one award in hand.
When the company was looking to merge its operations with recently acquired Transactis, it turned to Lindsell Marketing to carry out stakeholder surveys and provide strategic consultancy.  As a trusted provider of marketing and research services familiar with industry terminology, trends and its customers, CDMS Transactis had no hesitation in appointing Lindsell Marketing to the task.  The result was a clear view of how to communicate the relaunch of the merged company under the Transactis banner to customers, prospects, staff and the media.
The Client's View
"Lindsell Marketing has proved to be more then just a PR agency.  Their content driven approach means that every media communication is enriched with real commercial messages that we can repurpose for marketing and sales collateral.  This also creates an important balance between quality and quantity of coverage that is gained.  This helps foster a range of quality media coverage that then goes to have a multiplier affect.
"The Awards campaign has been a resounding success showing how the Lindsell team can add value to all forms of marketing communication. By using their strategic research and consultancy service at an important transitional time has enabled the smooth and confident communication of a total company rebrand.  Lindsell Marketing really do deliver on their promise of innovative, content rich communications and quality service provision."
Richard Higginbotham, Head of Marketing, Transactis